Calls from the Hull Vol II – An interview with Elmo Taihitu
The Project The Calls from the Hull project was initiated […]
05.06.2023
The Project
The Calls from the Hull project was initiated in 2020. During the first lockdown measurements, my work as a live sound engineer came to a stop and I was left with a lot of spare time. I had a discussion with Jan Visser [V11 co-owner] about using this space to record. With my regular job temporarily gone, I wanted to have the benefit of being able to still do sound. The original idea was to record demos. Following the conversation with Jan, our booker Keimpe stepped into the discussion too. From there the idea sprung to invite bands via our networks to come over to record tracks.
For me personally, it was to keep my practice as a sound engineer going while everything came to a halt.
I thought, let's make a demo here and then take it to the studio but already the first bands who came around asked if they could bring a video crew. They had all these ideas about the session and I realised 'ok, they're really expecting a high quality level here'. It turned out great, some first-ever releases of these bands came out from those recordings.
There was some subsidy set aside for this once the concept of the project became more thought out. We recorded 12 or 13 bands at first and then came the idea from the Stichting, 'Okay, let's put out a compilation on vinyl'. How crazy it got, the Stichting team went all crazy with merch and organised a release festival and the vinyl became an object to remember this time by.
For this second Volume, we opened up a call to local bands in November 2021. More than fifty bands reacted to it, which really took us by surprise. Together with the Stichting team, we narrowed down the selection to 12 bands and from there started the recording process again.
For this second volume, we opened up a call to local bands in November 2021. More than fifty bands reacted to it…
Where the first edition was made up of 80% live recordings, with or without an additional video crew brought in by the bands, this time around I gave the bands the option to either do a live session with three songs as we had limited time for recording & mixing, or they could choose one track which we could produce with some more effort put into it. Some of the bands opted for that second option. I really enjoyed that experience, it was a learning process through and through.
About the bands
The bands were excited right off the bat. On the day of the recordings, we play the material off the PA's on the boat and that already sounds good, so we were all always really happy. Afterwards, how I approached it was by setting up a back and forth process in which I'd mix, send it over, wait for their feedback and repeat which ended up with results the bands really liked. The track 'Mirror Factory' recorded here at V11 was the first single Library Card released. Same with Marathon, they released a single with two tracks, one of which was 'Afternoon Television'. The fact that they're willing to put it out shows they stand behind it.
I see myself more of an engineer, someone who provides the bands with technical assistance, which means the bands really have the space to produce themselves. It was nice to see how different bands approach things. The fact that the bands had the option to pick one track with the gift of additional production time allowed us to layer things, too. For example with Indigo Pastel, we recorded ambient sounds of the boat which ended up becoming the intro to their track. That was something really special.
…with Indigo Pastel, we recorded ambient sounds of the boat which ended up becoming the intro to their track.
The only major challenge with this project was lack of time. We started during the lockdown, when we all had a lot of time and the restaurant of the boat was closed so the space was free to use. When the lockdown ended we all got busy again, and a bunch of bands were still lined up to record, so planning became more difficult.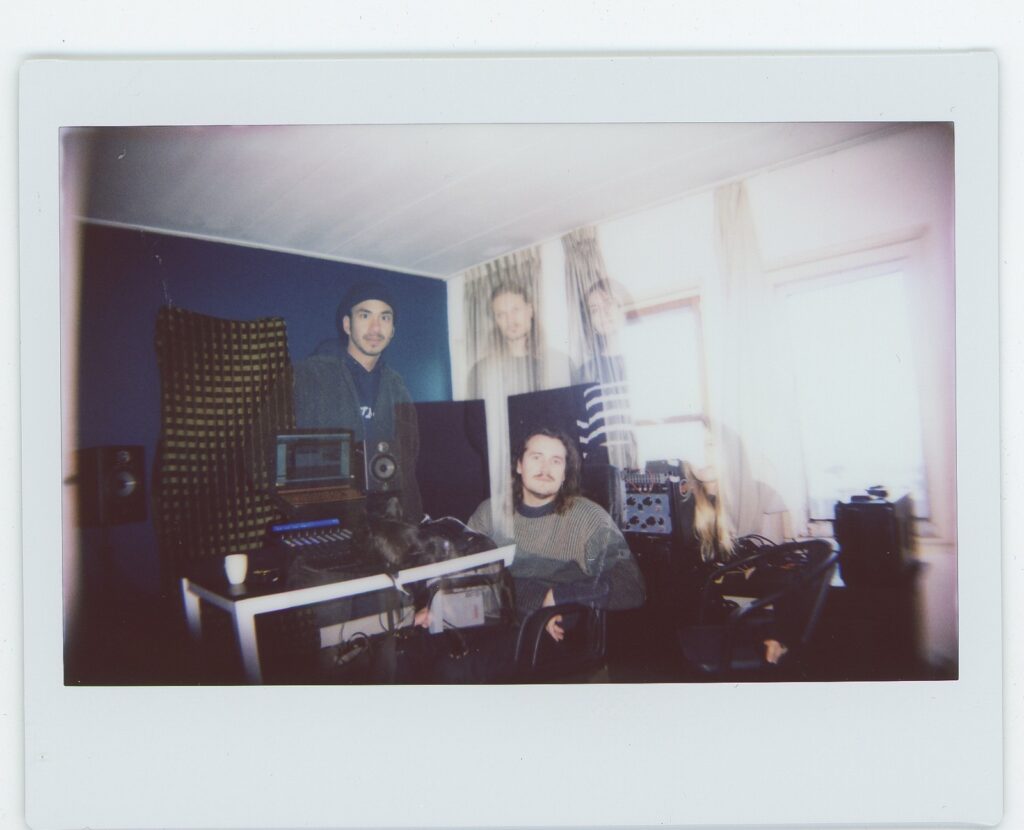 Photo by Elmo Taihitu
About V11
Vessel 11 is a great space for bands. This is where a lot of first release shows happen for smaller bands, they're excited about the setup here. It's affordable in so many ways – I'm still amazed by the great deal V11 has when it comes to renting out the space for release shows and then there's the V11P membership which encourages music lovers to the show for a sick deal. I spoke to Wim du Mortier from Muziscene during a V11 show and I was telling him how a lot of firsts happen in this space. A lot of the musicians are very experienced but some of the bands they're in are pretty new. This project, but also the venue as a whole works as a platform to give a nice push for those bands. Take my previously mentioned example of Library Card, made up of members from various bands out of Rotterdam's music scene (The Lumes, Neighbours Burning Neighbours, Nagasaki Swim). Their first proper show was at V11, their first track release was recorded here, and now they're playing festivals in and outside the Netherlands as well as venues like Maassilo!
This compilation edition is very coherent and reflective of the lighter times after the previous year. The idea of recording demos became much bigger than I thought and it's something we can really be proud of.
Photo credits in order of appearance: Elmo at V11 by Céline Pinget, Stichting team ghosts in Elmo's studio by Elmo Taihitu, Elmo in his home studio by Elmo Taihitu.