Silent Disco
Make your event unforgettable with a Silent Disco…
07.08.2019
Make your event unforgettable with a Silent Disco!
We offer our Silent Disco option in collaboration with Dansvoer -based in Rotterdam- who are highly experienced in facilitating Silent Disco adventures. With their 3-channel RGB LED headphones, one has the opportunity to play 3 different styles of music at once. Each headphone is equipped with a channel-switch which enables all individual guests to choose between the three channels at any given point in time. The colour of the LED-lighting emitted by the headphones shows which channel is currently playing on each headphone; red, blue or green.
When the silent disco headphones are on, the sound is crisp and clear anywhere in the venue. When you take the headphones off, you can easily have a conversation without having to shout over the music. Perfect!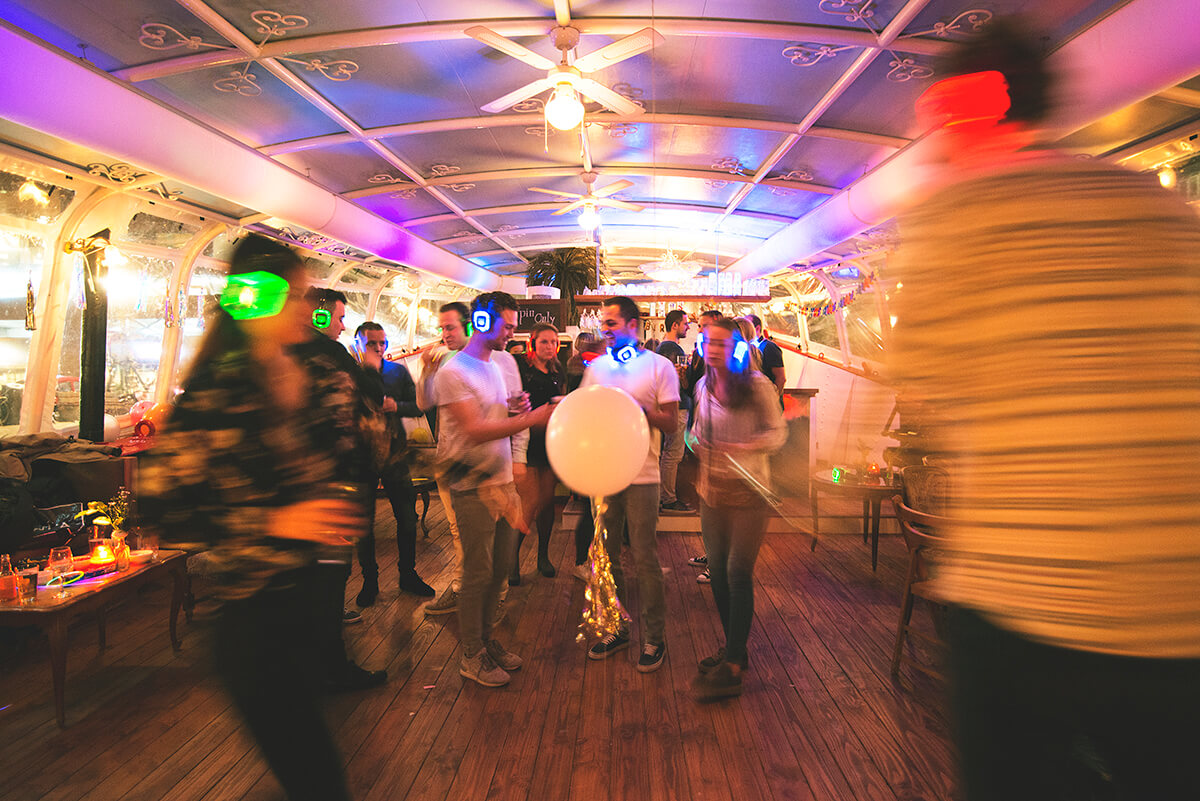 With one of DANSVOER's Do It Yourself Silent Disco packages, it's possible to keep complete control over the music played on all three available channels. We make sure headphones, transmitters and necessary cables are provided; from there on, it's all up to you. Maybe you want to bring 3 different playlists, playing on laptops or phones? Maybe you just want to use one or two channels? Maybe you like the option of one or two playlists in addition to a channel dedicated to a live DJ? Whatever suits your wishes!
Pricing DIY Silent Disco
3 channels – 20 headphones – €140,40 incl. tax
3 channels – 25 headphones – €162,00 incl. tax
3 channels – 30 headphones – €184,95 incl. tax
3 channels – 40 headphones – €230,40 incl. tax
3 channels – 50 headphones – €274,50 incl. tax
3 channels – 60 headphones – €321,30 incl. tax
3 channels – 70 headphones – €365,40 incl. tax
In case you would like to dance to the tunes of one of our recommended DJ's, we would be happy to advise! For more information about organising an event on board, visit our Rent the Boat page.