Closed until Spring
Vessel 11 out of the water
V11 needs some TLC, so she's off on a journey. We are taking the opportunity from this second COVID-19 lockdown to dry-dock the ship and do the standard 10-year inspection of the underside, The maintenance will take 2 weeks, but due to the COVID-19 crisis, we have made the tough decision to keep the bar and restaurant closed until April 2021.
16.11.2020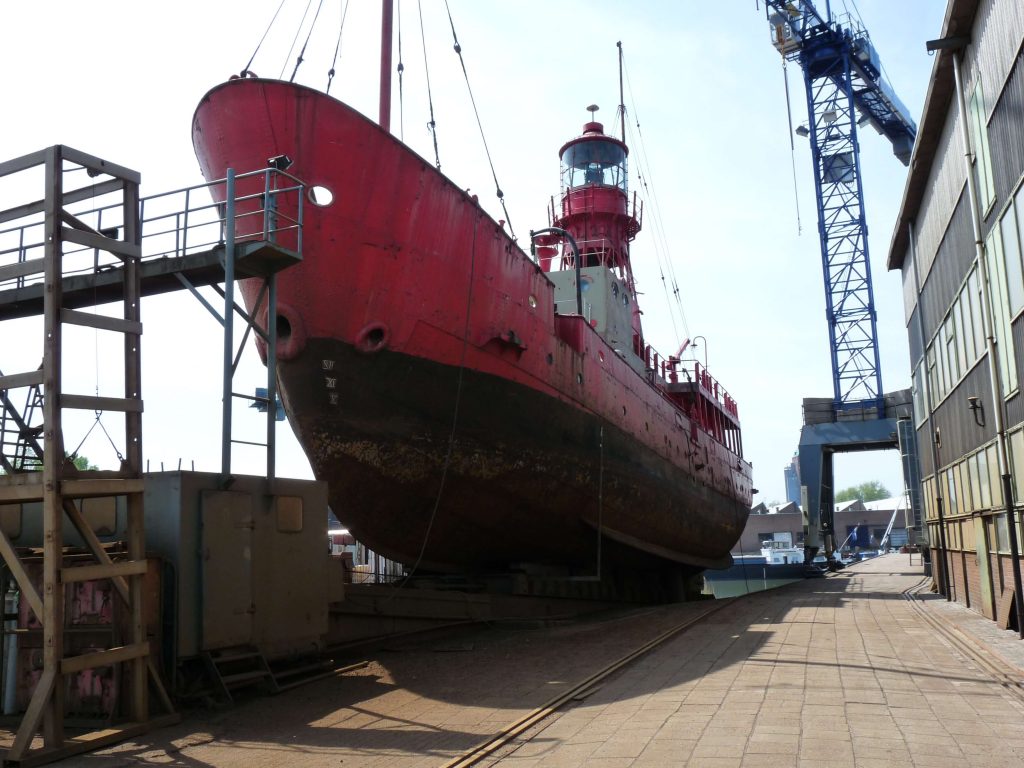 On 20 November, the lightship will be towed by 2 tug boats (one at the front and one behind) all the way to Hellevoetsluijs at the Jan Blancken dry dock. The journey will take around 5 hours. All content onboard the ship will be stowed away and tied down for the journey.
At the dry dock Vessel 11 will be lifted out of the water and the underside will be cleaned, mended (if necessary), officially inspected, certified and painted. The works will take 2 weeks.
The task will be managed by Wieber Radstake, an expert in the maintenance of ships. The Vessel 11 crew will form the team of workers who will clean and paint the belly of the ship.
The ship will return to the Wijnhaven on the 7 December.
Due to the COVID-19 crisis, the bar and restaurant will remain closed until April 2021. With spring in the air, we hope to welcome people to our terraces again. In the meanwhile, Vessel 11 is actively looking for secondments (detachering) for its crew members to avoid having to end their contracts during the period that the ship is in sleep mode.
However, Vessel 11 won't be completely closed during the winter. The Stichting Vessel 11, that runs the music programme onboard the ship, will continue with its mission to support Rotterdam's local musicians. The Stichting team will continue to live stream local DJ's several times a week, offer the Vessel 11 equipment and expertise to local bands to make recordings and make DJ equipment available to local DJ's to practice with.
If and when we are again able to gather the public together outside at 1.5m distancing, Stichting Vessel 11 will continue with its programme of silent concerts and DJ nights, where the ship becomes the stage and the audience is spaced out on the land at a safe 1.5m distance. We have space for over 80 people in the audience, which during the covid-19 restrictions makes Vessel 11 the 2nd largest stage in Rotterdam after the Maassilo! We are looking forward to re-opening the bar and restaurant on the ship in the Spring with a Jaya the Cat concert.